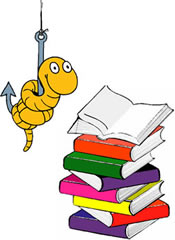 REVIEWS

OUR CUSTOMER'S COMMENTS AND TESTIMONIALS

Real cute store. Every beach town should have a bookstore like this one! Posted by: beachisback, 5/8/2008; MyFox Philadelphia's HOT LIST..

OH MY GOSH! I LOVE THIS STORE! I am an unusually fast reader and can burn thru a book in a couple of hours. This is by far the best bookstore around! The selection, the organization, the staff... You can't possibly leave empty handed! On the contrary, I often leave with an empty wallet! Hands down, the best! Posted by: mandie1, 5/7/2008, MyFox Philadelphia's HOT LIST.

This is my all time favorite place to be at the shore. I love to go in there and plop myself down on the floor in the horror section and go through all the books. I usually come out of there with about 20 books. I look forward to going there all year. I live in Phila and there is nothing near as homey as this place. Just walking in and smelling all those books is a blast. It's also great as to how the store is sectioned. It is not just Fiction and Non-Fiction. You can actually go through all the horror titles without the romance or thrillers being mixed in. There's an actual "horror" section, etc. You can't beat the prices and the decor is so your grandmother's attic. Please don't change a thing! You make my summer!!!! Posted by: violet4978, 7/10/2008; MyFox Philadelphia's HOT LIST..

Our family vacations in Avalon every year, but we go to Wildwood especially for Hooked On Books. It really is a great bookstore. Our whole family loves it. Last year the guy turned me on to Jodi Picoult. Told me I would cry my eyes out. And I did. She is my new favorite author. My daughter got all the Junie B. Jones books here and I love that my daughter loves books too. We could stay in this store for hours at a time. Oh and they play the coolest music in there. Keep up the good work guys! Posted by: Katie_Delin, 5/11/2008; MyFox Philadelphia's HOT LIST.

My husband and I discovered this store several years ago and were hooked. Frank had been looking for three hard to find books for ages and by the end of the summer they had managed to find all three. It's a lovely bookstore and we're simply taken with the staff, especially the Irish guy Kieran. What a sweetheart! They have recommended new authors to us and we've never been disappointed. They really take the time out to make sure you leave satisfied. Such a wonderful personal touch that you don't find in some stores where you're just another face at the register. We anxiously await their opening each summer and are so sorry to see them go at the end of the season. However, we make sure to stock up for the winter! And for people with children or grandchildren, this is an excellent store, especially if you have those summer reading lists for school! My grandchildren love it! So, I hope you boys win this and we'll see you in a couple of weeks! Ester & Frank Posted by: Granny2008, 5/7/2008; MyFox Philadelphia's HOT LIST..

I can't believe there are any other bookstores in this competition! I have traveled extensively and can say without reservation that this is by far the best bookstore I have ever had the pleasure to enter. I am a regular customer for three months out of the year and visit at least three or four times each week. I have never left empty handed or unsatisfied. You have to see it to believe it! Posted by: Angela123, 5/7/2008; MyFox Philadelphia's HOT LIST.

What can I say that hasn't already been said?!?! The best bookstore, new or used, I've ever been to. A gold mine for the avid reader! New books, used books, hard to find books... the list goes on and on. Everything is sorted and organized and a pleasure to browse. And the staff is top notch! TEN STARS at the very least! No need to go to any other bookstore! Posted by: seanaisling, 5/7/2008; MyFox Philadelphia's HOT LIST.

By far, the BEST BOOKSTORE out there! I could spend days just looking thru their selection! Truely a reader's HEAVEN! I've never been in any used bookstore with so many different sections, all organized and alphabetized! Impossible to leave empty handed! The owners are so knowledgable and friendly and go out of their way to make sure their customer leaves satisfied. Definately my first stop each summer and my favorite! Posted by: lisa111, 5/7/2008; MyFox Philadelphia's HOT LIST.

I visited Hooked on Books a few years ago and for a book lover it was like entering a treasure trove. All those fabulous books were clearly organized and easy to find. It is the best bookstore I have ever visited. Truly a New Jersey jewel! Posted by: Divinghobby, 5/7/2008; MyFox Philadelphia's HOT LIST.

An amazing selection of books are available - and they are great books. A full selection from all my favorite authors are available - the problem for me is when to stop shopping! The owners appear to love book themselves so they are very knowledgeable and helpful with recommendations. Posted by: Annandale, 5/7/2008; MyFox Philadelphia's HOT LIST..

I have 4 kids in Catholic school. Finding the books for their required summer reading was a nightmare until someone told me about this store. They not only had the books I was asking for, they ran round the store, picked them off the shelves and put them in my hand. My oldest son won't read if it doesn't interest him, and they were able to suggest the books on his list that he actually enjoyed reading. I can't say enough good things about this bookstore. Even the big mega-stores in the city didn't have half the books I needed and charged three times as much for the ones they did have. Totally worth the trip to Wildwood. Posted by: mccain08, 5/6/2008; MyFox Philadelphia's HOT LIST.

I wish this bookstore was in my town. It is my favorite place in Wildwood. They have the best selection of mysteries anywhere, and laid out easy to find. Love the true-crime selection too. I make lists of authors I want all year and then stock up on reading for the rest of the year when we are on vacation. They give me a nice discount too for buying a lot. LLLLove this place Posted by: cherryhill, 5/2/2008; MyFox Philadelphia's HOT LIST.

I think that this is probably the best used book store that I've visited (and I've been to a lot). The selections are wonderful, the service always courteous and friendly, and the place is always a joy to visit. Truly a gem of a place! Posted by: user0925, 4/30/2008; MyFox Philadelphia's HOT LIST.

I think that this is probably the best used book store that I've visited (and I've been to a lot). The selections are wonderful, the service always courteous and friendly, and the place is always a joy to visit. Truly a gem of place! Posted by: user0925, 4/30/2008; MyFox Philadelphia's HOT LIST.

I am the sister of the hookedonbooksfan and I've known one of the owners for many years. He's a great guy, great sense of humor and he can sign! I am deaf, too, and it's great knowing that I can go to this bookstore and be able to understand and be understood! I'm going to visit them soon! I want to recommend to everyone out there that reads books to check out "Hooked On Books". You won't be sorry! Posted by: hookedonbooksfan2, 4/27/2008; MyFox Philadelphia's HOT LIST.

I am the mother of the 'hookedonbooksfan' and I, too, have known the owners for many years. Jim and Kieran are sweet guys and work hard to run their book store for EVERYONE. Books from Christianity to the Zodiac.I love that Jim can fingerspell and sign to me cuz I am deaf, too. Always something for everyone. Keep up the good work, guys!!! Posted by: bookfan, 4/27/2008; MyFox Philadelphia's HOT LIST.

I have been going to Hooked On Books for years. Both owners are good friends of mine. They have a wide variety of books for you to choose from. They know me so well that they have books ready for me when I come in. Not only that, I am deaf and one of the owner's can fingerspell and they will work with you to understand what you would like to read. Vote for these guys! They are the best! Posted by: hookedonbooksfan, 4/26/2008; MyFox Philadelphia's HOT LIST.

The above are reviews posted April to July, 2008 by enthusiastic readers who voted Hooked on Books the best bookstore on the Jersey Shore in MyFox Philadelphia's HOT LIST competition. See http://myfoxphilly.cityvoter.com/hooked-on-books/biz/68000 Accessed August 2008
---
Looking for a great summer read? Budget tight? Gas prices getting to you? Well have we got the place for you. Hooked on Books located 2 blocks off the Wildwood Boardwalk is the perfect place to loose an hour or two. As you peruse the stacks in this wonderfully quaint little used bookstore you will get lost in the great titles and selection.
A few summers ago when Drew and I lived in Wildwood there were a few things we could afford for entertainment. We could see the fireworks every Friday night, for free, from our front porch on Magnolia Avenue. We would occasionally treat ourselves to breakfast at our local WaWa. We would walk on the boardwalk, taking in the sights and sounds of summer, "Watch the tramcar please!" Hooked on Books became one of our haunts. I loved browsing and trying to find books I always meant to read, but never had the time. Imagine the Strand Bookstore In Manhattan only smaller, more friendly and with a great selection of books not art guides.
Open seasonally this wonderful little jewel in the middle of Pacific Avenue is run by Kieran & Jim. Both great guy's who don't mind you spending time browsing and looking at books until you have made your selection. Speaking of selection, it's huge, you will always find something you haven't yet read, always wanted to read, or just talked to a friend about, and they read it, and recommended it to you.
You will find that most books are pretty much half of what they would be if you were buying them new. They also run two consistent specials: 20% off when you buy 10 or more books. Also when you buy 3 kids books you get the 4th for FREE. Now you will need these specials because you want to buy the entire collection of Oprah's Book Club, or the entire Chronicles of Narnia.
On my last visit to Hooked on books I bought enough books to last me the whole summer. It's a must see if you are in the Wildwood area and a destination if you are vacationing elsewhere. So go out there and get hooked, it's worth it!
from Experience The Shore article, Special Shore Correspondent, Laura Bopp article "What's on Your Summer Reading List? - Hooked On Books Wildwood NJ" posted July 5, 2008 see http://experiencetheshore.wordpress.com/2008/07/05/whats-on-your-summer-reading-list-hooked-on-books-wildwood-nj/ Accessed August 2008
---
I found a really cute little used book store called Hooked on Books in Wildwood, NJ. I bought the following books...
Natural Born Charmer by Susan Elizabeth Phillips
The Emperor's Children by Claire Messud
The Torso in The Town by Simon Brett
A Salty Piece of Land by Jimmy Buffett
Lethally Blond by Kate White
A Tale of Two Sisters by Anna Maxted
All for under $20.00.
Message edited by its author, Aug 13, 2007, 8:46pm.
From LibraryThing (cited as the world's largest book club, connecting people who read the same things) see http://www.librarything.com/talktopic.php?topic=5183 Accessed August 2008
---
Best book store: "Hooked on Books", Wildwood, NJ. Owned by a sardonic Irishman (just like in the UK TV series "Black Books"), this is one of the best-stocked used book shops on the East Coast. I discovered Allan Mallinson there this past week, and am greedily Googling to acquire the rest of the series.
from Kierkegaard's blog on culture http://theforvm.org/diary/kierkegaard/the-sea-sea Accessed August 2008
---
I'm afraid to review this because I'm selfish and don't want anyone else to know about it. But, since I adore fellow Yelpers I'll tell you how amazing Hooked On Books is. They have endless amounts of out-of-print and used books for SUPER cheap. Whenever I go to the shore I make sure to stop here. You name it, they probably have it. And if you're into Oprah's book club (which I am not) they have a section dedicated to those books for, like I said before, cheap.
Customer review on Yelp Wildwood From http://www.yelp.com/biz/hooked-on-books-wildwood Accessed August 2008
---
"We love this place!": My husband and I absolutely love stopping in this bookstore during the summer to picked upsome books for light beach and summer reading. My husband ended up stumbling across some out of print Fletch books here and became hooked on the series (it was a book before Checy Chase made the role famous i nthe movies).
I also found a number of good pregnancy books at decent prices, all newer editions. We also found the staff friendly and the books pretty well organized, making the books easy to find if you were looking for a specific genre or author.
Review of Hooked On Books by Christine P. 11/29/05 from Insider Pages (which provides reviews of local businesses, written by customers) http://www.insiderpages.com/b/3718151222 Accessed August 2008
"Love It": I used to go to this bookstore everyday during the summer time! It is samll so you have to hunt for what you want b/c they have a lot of stuff in there! Outside of the store they have racks with bargain books so I really like that! I have found some cheap books in that store! That has made me very happy! The bookstore is located in the downtown area of wildwood where all the bars are so it is hard to miss! Get a book today.
Review of Hooked On Books by Lauren E.. 11/21/05 from Insider Pages http://www.insiderpages.com/b/3718151222 Accessed August 2008
---
My favorite used bookstore is down the Shore in Wildwood, New Jersey, Hooked on Books. I try to get there at least once or twice a year and pick up about 30 books a trip. Now, the problem...what do I do with those books after I read them? .....
Comment included as part of a blog posted by Cathy Lawton on 04/23/2008 09:48 PM see http://activerain.com/blogsview/482115/Lincoln-Park-Library-Lincoln Accessed August 2008
---
Hooked on Books - There are things much worse to be hooked on. I wish all people had this addiction.
http://www.flickr.com/photos/lucindalunacy/2068688561/ Accessed August 2008
---
We go to a very neat used book store in the middle of town, called "Hooked On Books", where we always go--last year we scored the last in the elusive Eyebeam series there--and got a few things
M. Fornatale, 1999 Article subject: 'Beachhead '99, Or Something.....Wherein we whip through every Jersey Shore Town In about fifteen minutes....' http://www.xnet2.com/sknoof/html/19990913vondrake.html Accessed August 2008
---
Even on vacation I seek out used book stores. Hooked on Books has an amazing selection, great prices, a stocked kids section as well as anything else you might like to find. They ... are in a lovely section of Wildwood with a number of antique stores and gift shops. Donna S's Book, December 31, 2005 6:24 AM PST http://www.judysbook.com/members/10574/posts/2005/12/244552/
---
Newspaper articles mentioning the store
Cape May County Herald.com "Nice Weather a Money Maker in Wildwoods Business" By Lauren Suit http://www.capemaycountyherald.com/node/9896